LATEST NEWS

UOB Plaza
2013-10-23 12:43:14
Located in Jakarta, our stretch membrane with translucent ....
Gedung Kejaksaan Negeri (KEJARI)
2012-07-03 14:23:48
In today's architecture, longevity is a key consideration. ....
Patcraft Carpet
2011-11-04 15:57:57
Where great flors begin... Do the right thing with ....
Back to News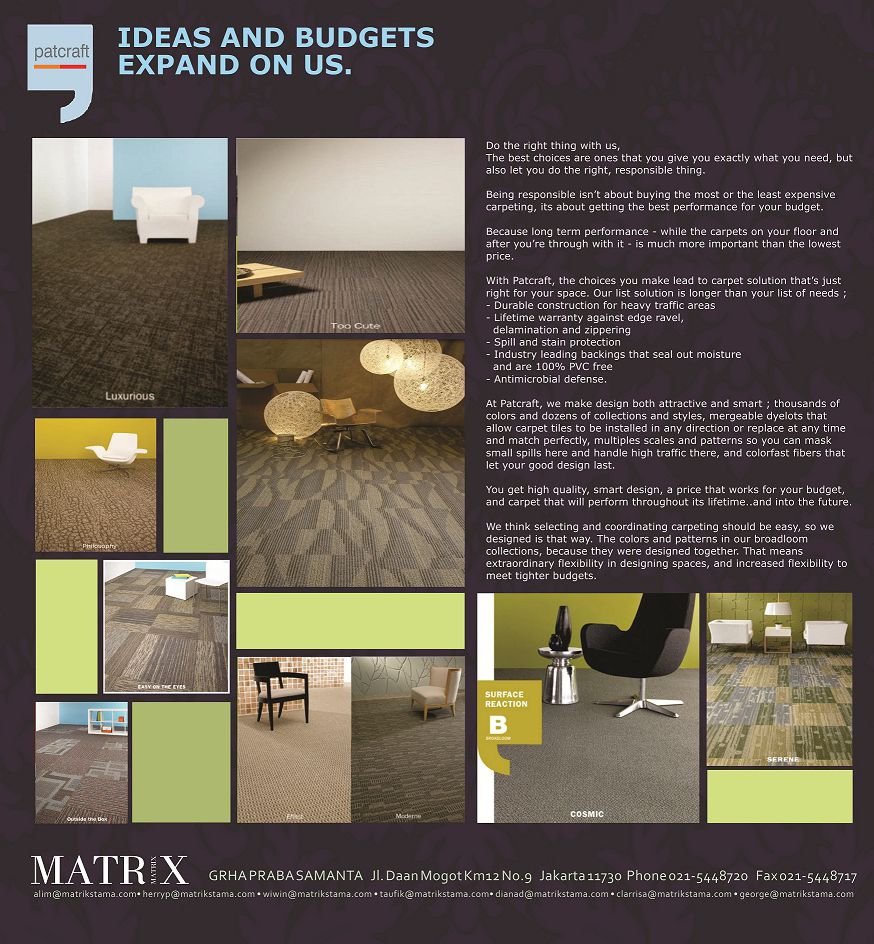 Patcraft Carpet
2011-11-04 15:57:57
Where great flors begin...

Do the right thing with us,
The best choices are ones that you give you exactly what you need, but also let you do the right, responsible thing.

Being responsible isn't about buying the most or the least expensive carpeting, its about getting the best performance for your budget.

Because long term performance - while the carpets on your floor and after you're through with it - is much more important than the lowest price.

With Patcraft, the choices you make lead to carpet solution that's just right for your space. Our list solution is longer than your list of needs ;
- Durable construction for heavy traffic areas
- Lifetime warranty against edge ravel,
delamination and zippering
- Spill and stain protection
- Industry leading backings that seal out moisture
and are 100% PVC free
- Antimicrobial defense.

At Patcraft, we make design both attractive and smart ; thousands of colors and dozens of collections and styles, mergeable dyelots that allow carpet tiles to be installed in any direction or replace at any time and match perfectly, multiples scales and patterns so you can mask small spills here and handle high traffic there, and colorfast fibers that let your good design last.

You get high quality, smart design, a price that works for your budget, and carpet that will perform throughout its lifetime..and into the future.

We think selecting and coordinating carpeting should be easy, so we designed is that way. The colors and patterns in our broadloom collections, because they were designed together. That means extraordinary flexibility in designing spaces, and increased flexibility to meet tighter budgets.