LATEST NEWS

UOB Plaza
2013-10-23 12:43:14
Located in Jakarta, our stretch membrane with translucent ....
Gedung Kejaksaan Negeri (KEJARI)
2012-07-03 14:23:48
In today's architecture, longevity is a key consideration. ....
Patcraft Carpet
2011-11-04 15:57:57
Where great flors begin... Do the right thing with ....
Back to News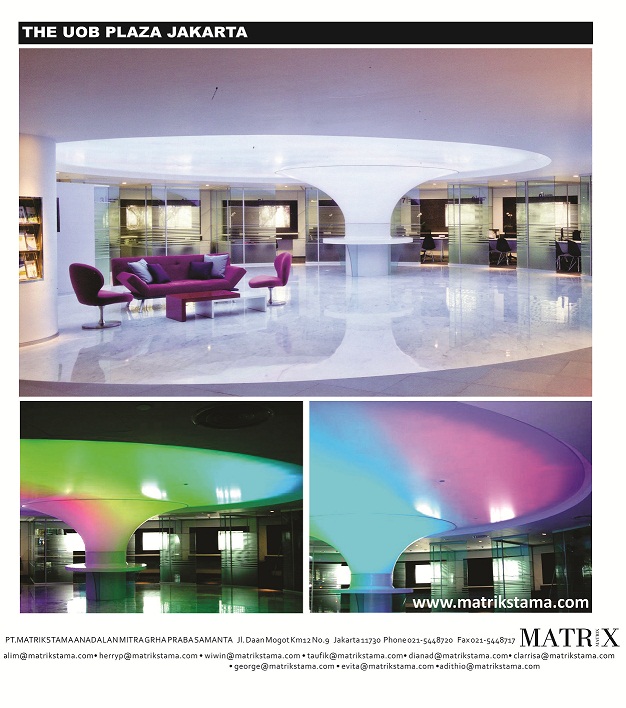 UOB Plaza
2013-10-23 12:43:14

Located in Jakarta, our stretch membrane with translucent fabric was mounted on the ceiling of the UOB Plaza lobby area. The stretch membrane (translucent) gives a perfect ambience to the lobby, also a very even lighting effect. Our stretch membrane is a suspended ceiling system consisting of two basic components a perimeter track and lightweight fabric membrane which stretches and clips into the track. In addition to ceilings the system can be used for wall coverings, light diffusers, floating panels, exhibitions and creative shapes. Stretch membrane allows the incorporation of all types of light fixtures, grilles and fixing points by the use of a proprietary background support.

Our fabric material is a unique 0.2mm thick titanium based fully recyclable vinyl. The material comes in over 250 colours and finishes including Matt, Satin, Lacquer (mirror like), Metallic, Suede, Perforated, and Translucent for lighting diffusers, backlighting & projection. The material can be printed or painted for additional effects, is entirely waterproof, washable, impermeable. The lightweight sheets are purpose made from roll material to form any shape and size typically up to 60 square metres in one piece. Each panel incorporates an ultrasonically welded 'Harpoon Edge' which clips into the track.

Create dramatic ceiling and wall effects including vaults, inclines and curves. This fabric is factory made to your requirements then quickly and quietly installed with minimum downtime. The stretch membrane system consists of custom cut, lightweight flexible materials held in place by wall mounted rails allowing for the creation of dramatic wall and ceiling effects, not available with the use of traditional materials. Suitable for public places, commercial and domestic applications.